08 Apr

5 Powerful Healing Scriptures Every Believer Should Know

Jesus never turned someone down that came to Him for healing. Often, He healed everyone listening to Him. The Bible is filled with promises from God for healing. Healing is God's will for you!

Believers are encouraged to meditate on God's Word and hold it in their hearts (Ps. 119:11, Deut. 11:18). This is more than just saying words. When you confess and truly believe God's promises for healing, you are speaking His very promises into existence.

This is my favorite way to study the Scriptures. First, I create a list of all the Scriptures I can find on a particular topic (for example, healing). Then, I personalize the verses so I can meditate on them and confess them in prayer.

Here are 5 powerful healing Scriptures you should know that have been personalized so you can pray them over your life!

Psalm 41:3

The Lord supports (will sustain, refresh and strengthen) me on my sickbed; He completely heals me from my illness.

1 John 5:14-15

Now this is the confidence that I have in Him, that if I ask anything according to His will, He hears me [sickness is not His will]. And if I know that He hears me, whatever I ask, I know that I have the petitions that I have asked of Him.

Proverbs 4:20-22

I give attention to God's words; I incline my ear to His sayings. I do not let them depart from my eyes; I keep them in the midst of my heart; For they are life, and health to all my flesh.

Isaiah 54:17

No weapon [sickness is a weapon of the enemy] formed against me shall prosper… This is my heritage as a servant of the Lord…

Deuteronomy 3:22

I do not fear…for the Lord my God Himself fights for me.

If there is anything I have learned in my 40+ years of researching healing and faith, it is that miracles have not stopped. God still heals today. I pray these personalized Scriptures on healing grow your faith to receive your miracle!

I have put together my entire collected list of personalized healing Scriptures from the Bible along with special teaching and a Q&A section on healing and miracles in my new book, The Healing Scriptures. If you are interested in learning more or want to get a copy for yourself, go here.

What is your favorite Scripture to declare over your life? Comment below and let us know!
---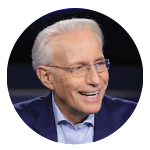 Sid Roth is the New York Times Best-Selling Author of Heaven is Beyond Your Wildest Expectations. He is an investigative journalist who has spent more than 40 years researching and documenting miracles, healing and other supernatural moves of God. He is host of the popular faith-based TV show It's Supernatural! airing internationally on Daystar and TBN. He also hosts the Messianic Vision web radio show.
More On Healing:
The Key to "Taking" Your Healing