22 Apr

Overcoming the Biggest Obstacle to Receiving Healing

I was once asked by a viewer of my TV show, It's Supernatural!, "What is the biggest obstacle to receiving healing?"

My friend, Dr. Linda Josef, previously explained how unbelief and improper teaching can cause believers to not receive their healing. But there is an even bigger obstacle.

The Poison of Unforgiveness

The biggest obstacle to receiving healing is unforgiveness. Someone defined unforgiveness as drinking the poison you want your enemy to drink. In the natural, you would never do this, but inwardly believers do this (harbor unforgiveness) all the time.

Here is the absolute God rule: "And whenever you start praying, if you have anything against anyone, forgive him, that your Father in heaven may also forgive your trespasses. But if you do not forgive, neither will your Father in heaven forgive your trespasses" (Mark 11:25-26, NKJ).

What if you don't feel like forgiving? Faith is based on a decision, not an emotion. Feelings will come but are not necessary for obedience.

What if they don't deserve to be forgiven? How much did you deserve to be forgiven before you were saved? Zero.

What if they do not repent and ask you for forgiveness? God commands us to forgive. He evaluates our actions of obedience. When you forgive before they deserve it by repenting, you open the door for them to be able to repent.

Does forgiveness mean you immediately trust them? No. Trust must be earned but forgiveness is your new nature.

Walking in Instant Forgiveness

The longer you wait to forgive, the more difficult it becomes. Also, why suffer the consequences of unforgiveness? I don't want anything separating me from the presence of God. "In His presence is fullness of joy" (Psalm 16:11).

The greatest gift from God to man is love. Love never fails. God is love. "He who dwelleth in love dwelleth in God" (1 Cor. 13:8,13; 1 John 4:16).

After 40 years of teaching on healing, I am amazed how many get healed when they understand and act on forgiveness. Now is the best time to start walking in instant forgiveness!
---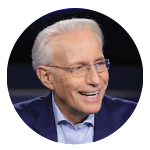 Sid Roth is the New York Times Best-Selling Author of Heaven is Beyond Your Wildest Expectations. He is an investigative journalist who has spent more than 40 years researching and documenting miracles, healing and other supernatural moves of God. He is host of the popular faith-based TV show It's Supernatural! airing internationally on Daystar and TBN. He also hosts the Messianic Vision web radio show.
"I have put together my entire collected list of personalized healing Scriptures from the Bible along with special teaching and a Q&A section on healing and miracles in my new book, The Healing Scriptures. If you are interested in learning more or want to get a copy for yourself, go here."
–Sid Roth
More On Healing:
5 Powerful Healing Scriptures Every Believer Should Know
The Key to "Taking" Your Healing