01 May

Can God Heal Addictions and Emotional Disorders?

When you think of God healing people, you often think of healing from physical sickness – things like cancer, genetic disorders or physical injuries.

But what about things like pornography addiction, drugs/alcohol, depression or anxiety? Does God ever heal people of addictions and emotional disorders?

Jesus Took It All

God can heal you of addictions and emotional disorders the same way He can heal you of physical problems. It all comes down to understanding the basis of any healing: Jesus.

When Jesus was crucified, He took every single pain, addiction, emotional disorder, physical disorder, disease, sickness – everything – and 1 Peter 2:24 says, "by His stripes you were healed."

And that covers everything.

How Can I Be Healed?

The scientific community has recently changed its view on the brain. They agree the brain can change. Neural passageways that are fed a lie can addict you to alcoholism or homosexuality. But you can place the greater truth in your brain by meditation on the Word of God. This forms new passageways that will trump the addiction. God will form this truth in your spirit that will set you free! Step one: Reject and repent of the lie. Step two: Meditate on the truth (God's Word). Step three: Walk in your freedom.

Stand, with undivided faith, upon God's healing promises from the Bible. Do this whether you are believing for a healing from a physical problem or an addiction/emotional disorder.

What I did for myself was go through the Bible and pick out the most powerful healing Scriptures from God. Then, I personalized them so that I could use them in prayer and confess them over my life.

I have made my handpicked, personalized list of healing Scriptures and answers to the most asked questions on healing and miracles available in the book, The Healing Scriptures. You can get your own copy here. However, if you want to create your own list of Scriptures instead, you can do that too!

The key thing to remember is this: When you confess God's Word, you are speaking into existence His own promises from His own Word. This is not a ritual – it is truly believing in your heart the promises you are confessing. Through faith and patience, you WILL inherit the promises!

Has God healed you of an addiction or emotional disorder? Comment below and let us know!
---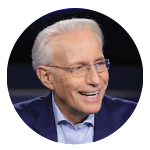 Sid Roth is the New York Times Best-Selling Author of Heaven is Beyond Your Wildest Expectations. He is an investigative journalist who has spent more than 40 years researching and documenting miracles, healing and other supernatural moves of God. He is host of the popular faith-based TV show It's Supernatural! airing internationally on Daystar and TBN. He also hosts the Messianic Vision web radio show.
More On Healing:
5 Powerful Healing Scriptures Every Believer Should Know
The Key to "Taking" Your Healing