03 Jun

Answers to 3 Common Questions about Healing and Miracles

Healings and miracles are mysteries to many believers. Although there are books that discuss them in great detail, they still remain perplexing. This should not be!

I want you to learn how to exercise your faith when you pray for healing and not just hope, but know, that God will do it. Below, I briefly answer three questions I often receive on healings and miracles. I started my own research into the subjects of healing and faith over 40 years ago and I pray God will use these answers to grow your faith in Him!

Question One: Does everyone have the gift of healing?

Not everyone has the gift of healing. However, the gift of healing and the ability to pray for another's (or your own) healing are two different things.

The gift of healing is a spiritual gift given to certain believers by the Holy Spirit according to God's will (see 1 Corinthians 12:7-9). But according to Mark 16:18, every believer can "…lay hands on the sick, and they will recover."

If you are a believer, regardless of whether you have the gift of healing or not, Jesus says you can pray for others and they will be healed. Just remember: He gets ALL the credit!

Question Two: Can I pray for my own healing or does someone else have to pray?

Yes, you can pray for your own healing! The reason why is found in the same verse I used to answer question one. Mark 16:18 says believers can "…lay hands on the sick, and they will recover." That means you can lay hands on yourself.

Here are the steps you should follow whether you are praying for yourself or for someone else:

1) Walk in holiness
2) Seek intimacy with God
3) Confess God's promises for healing (the healing Scriptures) over yourself or the other person when you pray

Question Three: Is there a specific way to pray in order to see healing miracles happen?

Jesus prayed different ways in the Gospels. The key is letting the Holy Spirit direct you.

Meditate on God's healing promises. Lay hands on the sick and believe. Sometimes people are healed instantly through a miracle and sometimes they are healed gradually. Do not be moved by what you see but be moved only by the Word of God.

I have put together my entire collected list of personalized healing Scriptures from the Bible along with special teaching in my new book, The Healing Scriptures. Also included in the book is a section with more questions and answers about healing and miracles. If you are interested in learning more or want to get a copy for yourself, go here.
---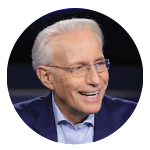 Sid Roth is the New York Times Best-Selling Author of Heaven is Beyond Your Wildest Expectations. He is an investigative journalist who has spent more than 40 years researching and documenting miracles, healing and other supernatural moves of God. He is host of the popular faith-based TV show It's Supernatural! airing internationally on Daystar and TBN. He also hosts the Messianic Vision web radio show.
More On Healing:
Can God Heal Addictions and Emotional Disorders?
5 Powerful Healing Scriptures Every Believer Should Know